Although a few European countries applied principles of classical dressage to the horse in harness before the 1940s , driven dressage did not become recognized in an offical way until 1969.
The Federation Equestre International, (F.E.I.) organized a committee to write the first international rules for driving competitions.
Originally the rules were written for teams of horses, (4) competing at the international level. As the various participating countries began to organize national driving events that included divisions for pairs and the single horse and ponies, a larger group of competitive drivers was introduced to the new discipline of dressage driving.
In the United States, the American Driving Society recoganized driven dressage in 1976 when it adapted the then current F.E.I. rules for Combined Driving for use in the U.S. At that time the A.D.S. formed its own Combined Driving Committee.
Since then the sport of Combined Driving, and the discipline of Dressage Driving have gained rapidly in popularity. Annual events have been established in many parts of the country. Driven dressage classes are now offered in many pleasure driving shows.
Dressage Driving with the Single Horse.
Lake County Dressage Member, Barbara Kroboth Driving Atilla in Preliminary Dressage. Trinity Combined Driving Event. Trinity California, 2005
Barbara Kroboth driving Atilla, Prelim. Dressage
It is hard enough to get one horse to move correctly, let alone 2 with only 1 rein per horse, or a four-in-hand, 4 horses (a team) with only 4 reins, one per horse. Part of the upper level FEI tests have movments that require the driver to use only one hand!
These horses require a very high degree of training and obedience. No other person on the carriage is allowed to touch the reins.
Do you want to learn to drive but don't know where to start?
Join your local driving club for help getting started. Clubs provide the resources, knowledge, clinicians and friends to help you get off to a good start in driving for Pleasure, Show, Combined Driving events and / or Dressage
Kylie Ruggio, Junior Whip and Heidle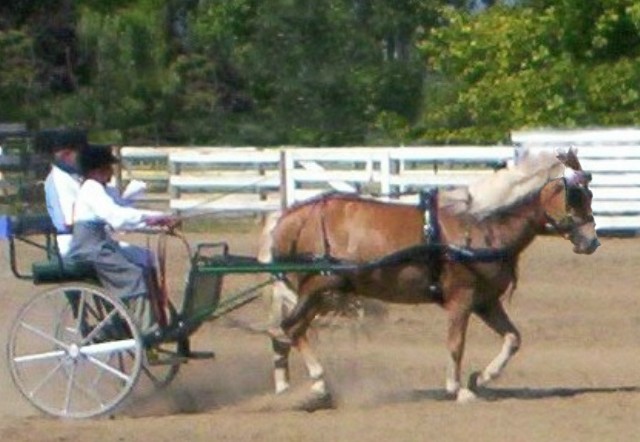 Heidle, Haflinger Pony, and Kylie, Junior High Point, 2006 Schooling Shows

It appears to many competitors, Dressage is mysterious and confusing and is often thought of merely as pattern-driving, or as a necessary evil found at a Combined Driving Event, rather than the necessary and desirable result of systematic training for every horse and for every eventual discipline.
To establish and preserve a high standard for dressage driving in the U.S.A., the American Driving Society appointed a special dressage committee made up of individuals with backgrounds in classical dressage as well as driving. This committee wrote and continues to write new dressage tests to establish a more gradual progression of goals for the various levels of competition. Training, Preliminary, Intermediate, and Advanced.
As more people compete in Combined Driving events and in dressage classes offered at pleasure shows, it is becoming apparent that the better dressage tests are being performed by drivers with a strong background in classical dressage. In order to attain the high standard of performance that has been demonstrated by dressage riders. these drivers have realized that they must adopt aids used under saddle and modify them for their work in harness. They have had to be innovative, considering that they must make do without the leg and seat as aids. In addition to schooling their horses in harness, they are longeing and long reining them as well as riding them (or having them ridden) to improve their performances. It has become apparent that to succeed in dressage driving, one must incorporate classical dressage technigues.
Hardy Zanke, Driving with Jutta Zanke as groom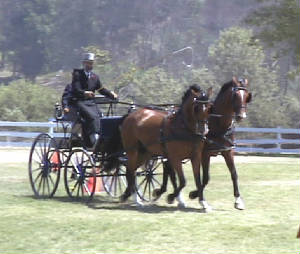 Hardy and Jutta Zanke driving their Holsteiner Pair
Driving Dressage with a 4 in hand, (Team)

Sally Green, Whip, Driving Mini Horse, "Bach"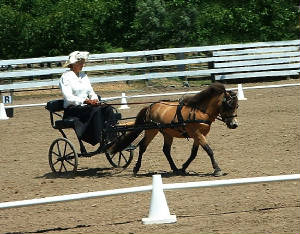 Sally and Bach were High Point Driving Horse, 2006 Spring Dressage Show.
Barbara Kroboth, Whip, driving herShetland Ponies,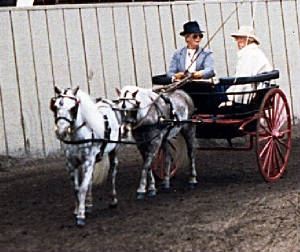 Goldi, leader and Super Sport, Wheeler, in Tandem, put to a Governess Car, Monterey, California1985